It may not be Cancun, but the top reasons to visit Cabo San Lucas will surely leave you wanting to spend your spring break, honeymoon, or family holidays in this laid back paradise.  Located at the southern tip of the Baja California peninsula, Cabo San Lucas is best known for its iconic El Arco de Cabo San Lucas, a distinctive rock formation found at the very tip of the city.  In addition, this holiday destination is a great place to go whale watching, scuba diving or maybe lounging by the beach.
Here are some of the top reasons to visit Cabo San Lucas.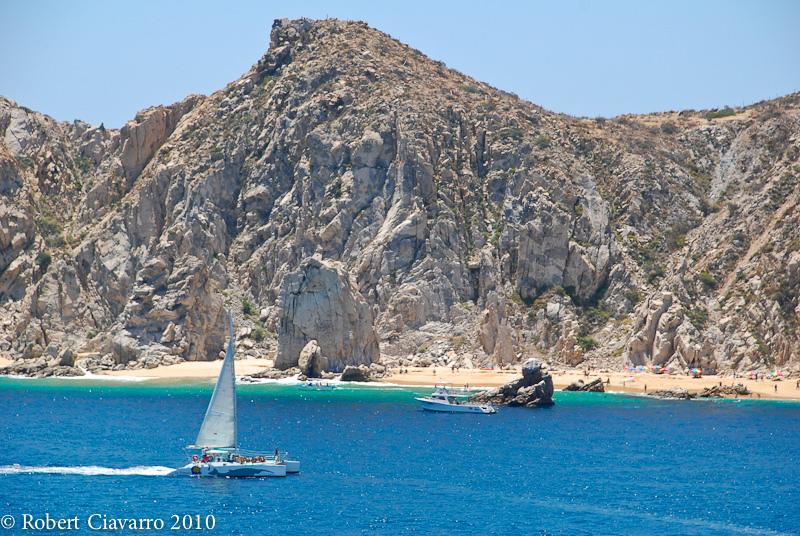 Winter?  What winter?  One of the top reasons to visit Cabo San Lucas is its perpetually sunny weather.  Here, you get 365 days of summer.  Now if you're looking forward to warming your toes in winter, then burying them on the warm sands of Cabo San Lucas may be the most perfect solution.
Romantic getaway.  Honeymooners will get the best week of their lives walking on the fine, golden sands of Cabo San Lucas's beaches, Admiring the beach scenery from the comforts of their own rented luxury villa, or watching the sun set at the El Arco de Cabo San Lucas.  Eitherway, the sun, sea, surf (and probably the tequila body shots) will leave you and your significant other smiling and glowing when you come back to the real world.
Under the sea.  Cabo San Lucas is one of the best diving destinations in the world, with its long stretches of coral reefs and hiding places of some of the world's most exotic marine life.  You can approach your hotel front desk to make arrangements for your scuba diving sessions with a qualified guide or instructor.
If scuba diving scares you,  you can always opt for snorkelling.
Nightlife.  Come night time and the city of Cabo de San Lucas comes alive with pubs, clubs, restaurants and bars filling in with locals and gringos alike.  If you are a big rock fan, the Cabo Wabo Cantina is the best place to go especially on October 13 when the owner (none other than rock musician Sammy Hagar of Van Halen) celebrates his birthday and performs with his band, the Wabos.  The show often include famous guests from the music scene.